Mediation Services with Attorney A. Nicole Weaver in Orlando, Florida or Anywhere with Online Mediation
"Weaving Creative Legal Solutions"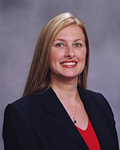 Nicole uses active listening and mindful questioning techniques to help the mediation participants identify and resolve the problems and emotions behind the conflict. She then guides the participants to set objectives that will allow them to build a vision and create solutions unique to their circumstances. Nicole has successfully mediated hundreds of cases. She does not just pass offers back and forth. She prides herself on using her experience to find creative solutions, stay engaged and persistently work to remove barriers that were preventing potential settlement.
Nicole's business, legal, and industry experience helped her to realize the importance of preserving relationships in the face of adversity.
Background
Nicole was raised in Lake Wales, Florida. Nicole received her Bachelor of Science in Communication at Florida State University in Tallahassee, FL, her Juris Doctor from the University of Miami in Coral Gables, FL, her Master of Business Administration from Rollins College Crummer School of Business in Winter Park, FL, and her mediation certifications from Dispute Resolution, Inc. and The Institute of Conflict Resolution & Communication.
Nicole has worked as an artist, corporate executive, and legal representative in the entertainment industry, and brings a level of empathy and understanding to all sides of a legal transaction that does not typically exist with the average entertainment attorney.
Start In Mediation
Nicole got her start in mediation when her Negotiation professor told her she should become a mediator because she had the "skills and demeanor that would help people want to open up to her". As it just so happened, she was on set when an actor locked themself in their dressing room due to a filming discrepancy and refused to return to set or talk to anyone involved in the production. Using active listening and mindful questioning techniques, she was able to help resolve the issue and return the actor to the production set.
Associations
Nicole has been admitted into the Florida Bar, California Bar, and is also a Supreme Court of Florida Certified Circuit Civil Mediator.
Nicole has been involved with the following organizations: Orange County Bar Association, American Bar Association, Young Lawyers, Florida Bar Association Entertainment and Sports Law Section, Florida Cast and Crew Association, Florida Motion Picture, Television Association and Central Florida Association of Women Lawyers.
Continuing Education
Nicole continues to devote considerable time to continuing education, as she believes strongly that mediators must enrich their education to maintain and increase the skills necessary to be able to properly facilitate and empower mediation clients to reach a joint solution.